CRIMSON RS series CV WIRE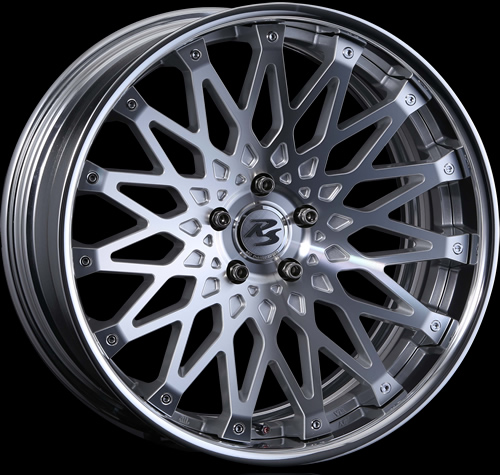 CV WIRE is SUPER CONCAVE DISK design.
We prepared distinctive 3 colors variations,
[SILVER POLISH]
[SMOKE CLEAR]
[GOLD CLEAR]
The center cap like center-lock, and the aluminum-valves, will produce the racing atmosphere.
The center cap is shipped with three colors,
[SILVER CROSS HAIR LINE]
[BLACK CROSS HAIR LINE]
[RED CROSS HAIR LINE]
so that you can select according to your preferences.
You are on the cutting edge in custom, with this wheel
[sized 19×7.5J-20×10.0J]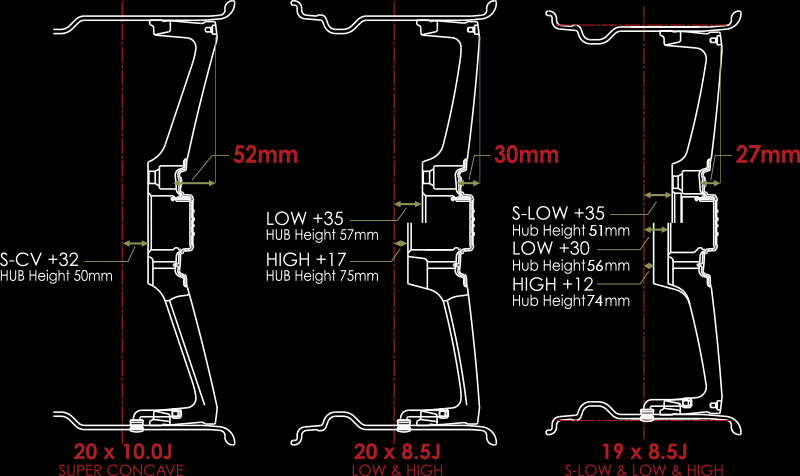 TARGET CARS

Domestic cars & Euro Cars

(Audi , VolksWagen , BMW , LEXUS , Mercedes , etc…)

RIM SIZE/RIM DESIGN

Multi Piece 19″ 7.5J-10.0J

Multi Piece 20″ 8.0J-10.0J

QUALITY

VIA/JWL 120% increase, It has been passed.

CV WIRE MULTI PIECE
SUPER CONCAVE DISK [20″]
SIZE
INSET(RIM DEPTH mm)
HOLE-P.C.D.
HUB DIA
NUT DIA
TYPE
PRICE(+TAX)
20 x 8.0J
+28(59)
~
+6(81)
5-112
5-114.3
5-120
φ66.5(5-112)
φ73(5-114.3)
φ72.5(5-120)
φ15/φ28.5
60°TAPER
JPY88,000(+TAX)
20 x 8.5J
+35(58)
~
-1(94)
φ15/φ28.5
60°TAPER
JPY90,000(+TAX)
20 x 9.0J
+41(58)
~
-7(106)
φ15/φ28.5
60°TAPER
JPY92,000(+TAX)
20 x 9.5J
+48(58)
~
-13(119)
φ15/φ28.5
60°TAPER
JPY94,000(+TAX)
20 x 10.0J
+54(58)
~
-20(132)
φ15/φ28.5
60°TAPER
JPY96,000(+TAX)
*DISKのRIMからの突出無し。
※価格には消費税が含まれておりません。
SUPER LO DISK [19"]
SIZE
INSET(RIM DEPTH mm)
HOLE-P.C.D.
HUB DIA
NUT DIA
TYPE
PRICE(+TAX)
19 x 7.5J
+50(47)
~
+26(71)
5-100
φ73
φ15/φ28.5
60°TAPER
JPY74,000(+TAX)
19 x 8.0J
+55(49)
~
+19(85)
5-100
φ73
φ15/φ28.5
60°TAPER
JPY76,000(+TAX)
19 x 8.5J
+55(55)
~
+13(97)
5-100
φ73
φ15/φ28.5
60°TAPER
JPY78,000(+TAX)
19 x 9.0J
+55(61)
~
+6(110)
5-100
φ73
φ15/φ28.5
60°TAPER
JPY80,000(+TAX)
19 x 9.5J
+55(68)
~
+0(123)
5-100
φ73
φ15/φ28.5
60°TAPER
JPY82,000(+TAX)
19 x 10.0J
+55(74)
~
-6(135)
5-100
φ73
φ15/φ28.5
60°TAPER
JPY84,000(+TAX)
*RIM深さ50mm未満はDISKがRIMより突出します。
※価格には消費税が含まれておりません。
LO DISK [19" 20″]
SIZE
INSET(RIM DEPTH mm)
HOLE-P.C.D.
HUB DIA
NUT DIA
TYPE
PRICE(+TAX)
19 x 7.5J
+45(47)
~
+21(71)
5-112
5-114.3
5-120
φ66.5(5-112)
φ73(5-114.3)
φ72.5(5-120)
φ15/φ28.5
60°TAPER
JPY74,000(+TAX)
19 x 8.0J
+51(48)
~
+14(85)
φ15/φ28.5
60°TAPER
JPY76,000(+TAX)
19 x 8.5J
+55(50)
~
+8(97)
φ15/φ28.5
60°TAPER
JPY78,000(+TAX)
19 x 9.0J
+55(56)
~
+1(110)
φ15/φ28.5
60°TAPER
JPY80,000(+TAX)
19 x 9.5J
+55(63)
~
-5(123)
φ15/φ28.5
60°TAPER
JPY82,000(+TAX)
19 x 10.0J
+55(69)
~
-11(135)
φ15/φ28.5
60°TAPER
JPY84,000(+TAX)
20 x 8.0J
+45(51)
~
+15(81)
5-112
5-114.3
5-120
φ66.5(5-112)
φ73(5-114.3)
φ72.5(5-120)
φ15/φ28.5
60°TAPER
JPY88,000(+TAX)
20 x 8.5J
+52(50)
~
+8(94)
φ15/φ28.5
60°TAPER
JPY90,000(+TAX)
20 x 9.0J
+55(53)
~
+2(106)
φ15/φ28.5
60°TAPER
JPY92,000(+TAX)
20 x 9.5J
+55(60)
~
-4(112)
φ15/φ28.5
60°TAPER
JPY94,000(+TAX)
20 x 10.0J
+55(66)
~
-11(132)
φ15/φ28.5
60°TAPER
JPY96,000(+TAX)
*19″RIM深さ50mm未満はDISKがRIMより突出します。
*20″RIM深さ51mm未満はDISKがRIMより突出します。
※価格には消費税が含まれておりません。
HI DISK [19" 20″]
SIZE
INSET(RIM DEPTH mm)
HOLE-P.C.D.
HUB DIA
NUT DIA
TYPE
PRICE(+TAX)
19 x 7.5J
+27(47)
~
+3(71)
5-112
5-114.3
φ66.5(5-112)
φ73(5-114.3)
φ15/φ28.5
60°TAPER
JPY74,000(+TAX)
19 x 8.0J
+33(47)
~
-4(85)
φ15/φ28.5
60°TAPER
JPY76,000(+TAX)
19 x 8.5J
+40(47)
~
-10(97)
φ15/φ28.5
60°TAPER
JPY78,000(+TAX)
19 x 9.0J
+45(48)
~
-17(110)
φ15/φ28.5
60°TAPER
JPY80,000(+TAX)
19 x 9.5J
+45(55)
~
-23(123)
φ15/φ28.5
60°TAPER
JPY82,000(+TAX)
19 x 10.0J
+45(61)
~
-29(135)
φ15/φ28.5
60°TAPER
JPY84,000(+TAX)
20 x 8.0J
+27(51)
~
-3(81)
5-112
5-114.3
φ66.5(5-112)
φ73(5-114.3)
φ15/φ28.5
60°TAPER
JPY88,000(+TAX)
20 x 8.5J
+34(50)
~
-10(94)
φ15/φ28.5
60°TAPER
JPY90,000(+TAX)
20 x 9.0J
+40(50)
~
-16(106)
φ15/φ28.5
60°TAPER
JPY92,000(+TAX)
20 x 9.5J
+45(52)
~
-22(112)
φ15/φ28.5
60°TAPER
JPY94,000(+TAX)
20 x 10.0J
+45(58)
~
-29(132)
φ15/φ28.5
60°TAPER
JPY96,000(+TAX)

SILVER POLISH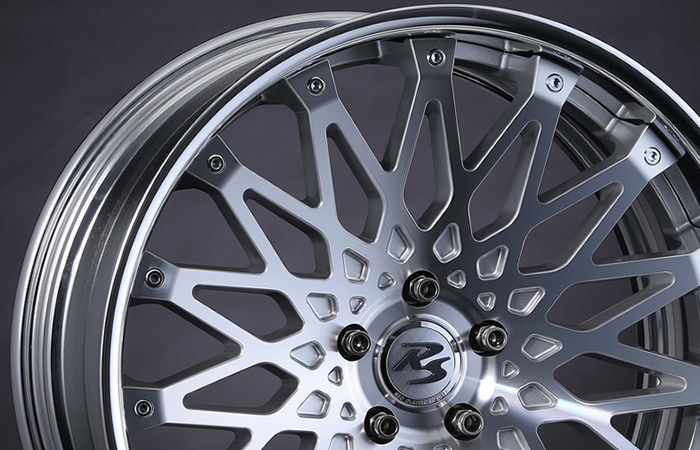 GOLD CLEAR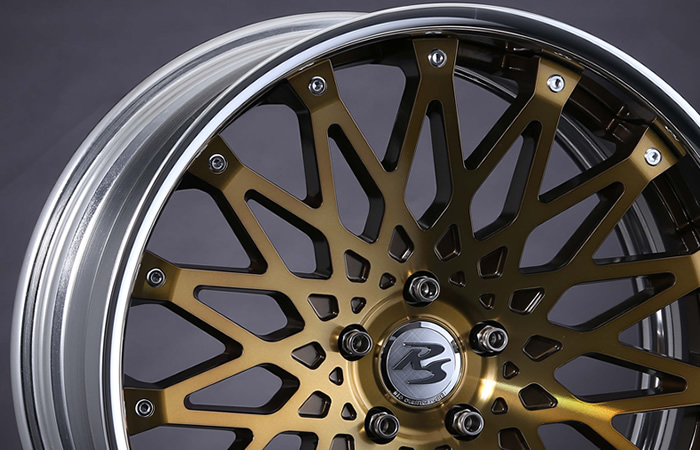 SMOKE CLEAR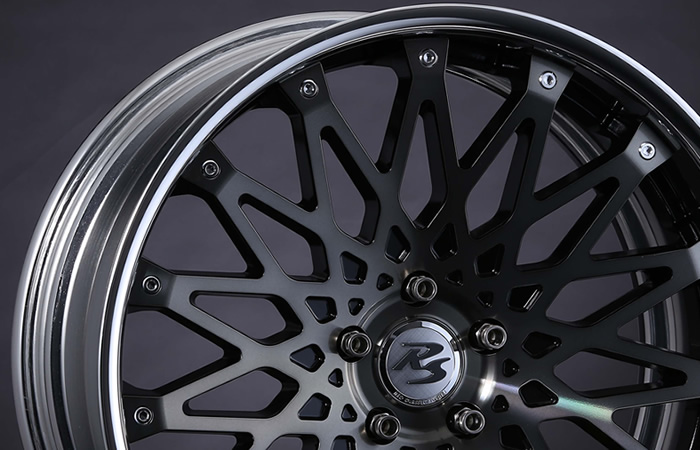 DISK COLOR
SEPARATE ACCOUNT
PRICE(+TAX)

SILVER POLISH

STANDARD

GOLD CLEAR

+JPY2,000(+TAX)

SMOKE CLEAR

+JPY2,000(+TAX)

 各車種マッチング設定などはお気軽にお問合せ下さいませ!!
国産タイヤ、輸入タイヤを 

SET PRICE

 でご提供致します。
ホイールのみ販売も可能です。
(お問い合わせの際は件名を必ずご入力下さいませ。)
19inch \298,000 ~ 20inch \348,000 ~【SET PRICE】